This is a cause that is very important to me as my youngest daughter suffers from Hypothyroidism.

The Thyroid is a large butterfly shaped Endocrine Gland. It is located in the neck above the collarbone. This gland produces thyroid hormone and affects nearly all of the bodies tissue. It's role is to help control metabolism and growth.
There are several conditions that can affect the thyroid. Cancer, Goiters, Hyperthyroidism, Hypothyroidism, Solitary Thyroid Nodules, and Thyroiditis. Depending on the disease the thyroid may become enlarged, produce too much or too little hormone, produce lumps or nodes, or become cancerous. When the thyroid is not functioning properly a person may experience weight gain or weight loss and may feel depressed and have a lack of energy.
Goiter
swelling in the thyroid gland, which can lead to a swelling of the neck or larynx. The most common cause for goiter is iodine deficiency. Goiter may be related to hyper and hypothyroidism.
Hyperthyroidism
Overactive tissue within the thyroid gland, resulting in overproduction and thus an excess of circulating free thyroid hormones: thyroxine (T4), triiodothyronine (T3), or both. One symptom can be a marked loss of weight.
Hypothyroidism
Hypothyroidism occurs when the thyroid gland does not produce enough thyroid hormone. About 5 percent of the U.S. population has hypothyroidism. Women are much more likely than men to develop hypothyroidism. Symptoms may include depression, lack of energy, and weight gain.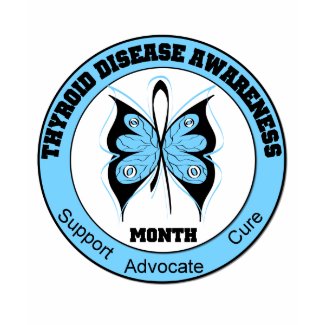 National Awareness Month - Thyroid Disease
by
giftsforawareness
Shop for a
shirt
on zazzle.com
GiftsForAwareness creates designs to raise awareness about many disease including those of the thyroid. Please visit their shop for more designs.
GiftsForAwareness Thyroid Disease Awareness