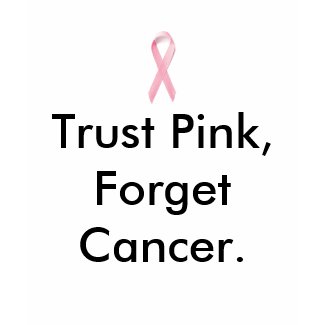 Trust Pink, Forget Cancer.
by
TrustPink4getCancer
View more
Cancer T-Shirts
trustpink4getcancer's Store at Zazzle
needs help raising money for Cancer research. Here is a quote from the Zazzle store. "For a part of a mini-diploma I have taken at school, I am required to raise £250 (yes, I'm English) for a chosen charity, in my case this is Cancer Research as it has affected me in several ways. I have started a Cancer Research brand entitled 'Trust Pink, Forget Cancer', like the well-known catchphrase of Vanish: Oxy Cleans, 'Trust Pink, Forget Stains'. I have made a whole range of products and hope to raise part of the money by collecting the entire profit I make from Zazzle and putting it into the fund."