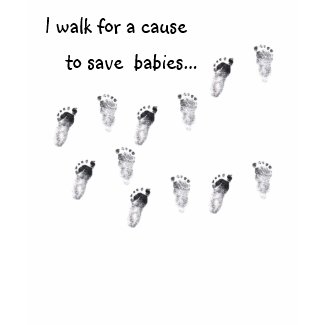 Walk for a cause - March of Dimes
by
bkang22
Create a
customized tshirt
on zazzle
The March Of Dimes was born in the United states from the National Foundation for Infantile Paralysis founded by President Franklin D. Roosevelt. Their mission is to improve the health of babies by preventing birth defects, premature birth, and infant mortality. Comedian Eddie Cantor coined the phrase March Of Dimes to describe and annual fund raising event held in January by the Foundation. Eddie became one of the promoters for the event. After his death in 1945 President Roosevelt was commemorated with his face on the dime which was first minted in 1946.
The Walk for a cause design above was created by a Zazzle artist who goes by bkang22. About the design she says "I walk for a cause - to save babies. In memory of my grandson all proceeds will be donated to March of Dimes. The footprints are from my grandson who was born at 26 weeks, we hope to help other families to avoid leaving the hospital without their baby as my daughter and son in law did." About her Zazzle store she says "All proceeds will be donated to mesothelioma research in memory of my Uncle (12/31/08) , March of Dimes in memory of my grandson (11/12/97) & Breast Cancer Research in memory of Onelia Barcon 4/12/07."
Please visit
bkang22's Store at Zazzle
for many more beautiful designs and to help with the charities she supports.