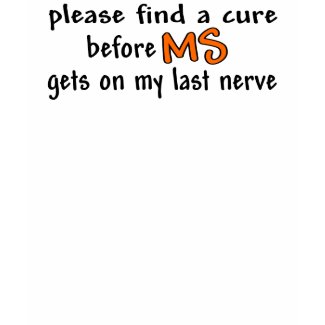 Ladies Basic T-Shirt
by
TeeThyme
See more
Cure ms T-Shirts
Multiple sclerosis (MS), also known as Disseminated Sclerosis or Encephalomyelitis Disseminata, is a disease in which the fatty Myelin sheaths around the axons of the brain and spinal cord are damaged, leading to Demyelination and scarring as well as a broad spectrum of signs and symptoms. MS affects the ability of nerve cells in the brain and spinal cord to communicate with each other.
Most people experience their first symptoms of MS between the ages of 20 and 40; the initial symptom of MS is often blurred or double vision, red-green color distortion, or even blindness in one eye. Most MS patients experience muscle weakness in their extremities and difficulty with coordination and balance. These symptoms may be severe enough to impair walking or even standing. In the worst cases, MS can produce partial or complete paralysis. Most people with MS also exhibit Paresthesias, transitory abnormal sensory feelings such as numbness, prickling, or "pins and needles" sensations. Other symptoms may include: Speech impediments, tremors, and dizziness are other frequent complaints. Occasionally, people with MS have hearing loss. Approximately half of all people with MS experience cognitive impairments such as difficulties with concentration, attention, memory, and poor judgment, but such symptoms are usually mild and are frequently overlooked. Depression is another common feature of MS. There is no medical cure for Multiple Sclerosis.
Tee Thyme
, a Zazzle artist whose own daughter suffers from MS wishes to raise awareness about this debilitating disease. Please visit
Tee Thyme's store at Zazzle
for more products and to help raise awareness about Multiple Sclerosis.